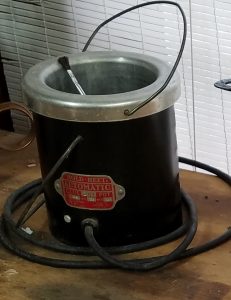 Ever since I began building instruments, I've used some form of electric glue pot to prepare granulated hide glue for my instruments. For the last 30 years, I've either used a double boiler (bain marie) and an electric hot plate, or the iconic "Hold Heet" electric glue pot that's been my workhorse since the early 1990's. The little "tailed" pot has soldiered on for 27 years, only twice letting me down during power outages.
The decision to convert my shop from a "New Yankee Workshop" influenced, Delta power-tools equipped shop into a traditional workspace, owes a lot to Roy Underhill's books, his PBS show "The Woodwright's Shop;" learning about my grandfather's hand-tools-only approach to violin making; and a visit to Colonial Williamsburg my family took in late 1997.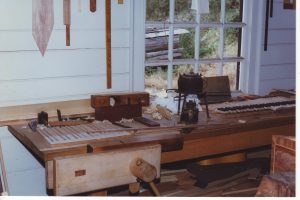 Our 1997 trip to Williamsburg, was meant to research historical trades for a family craft business we operated in Salado, Texas from 1998-2000. Spending quality time in the Anthony Hay Cabinet Shop was very high on my list of priorities. During our visit. most of the Hay shop was occupied with chair making, but the in a back corner of the shop, the harpsichord maker's workbench was set up to make jack rails and keys for a spinet. The distinct scent of an oil lamp came from that corner of the room.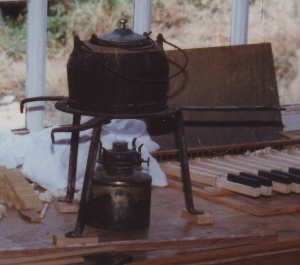 Finally locating the scent's source, my luthier-geek's eye was immediately drawn to the harpsichord maker's cast-iron glue pot, the trivet and the copper oil lamp underneath. I'd seen glue pots like this used on top of wood-stoves, in hearths, and above small braziers, but had never taken the time to consider oil or alcohol lamps as a heat source for my own glue pot.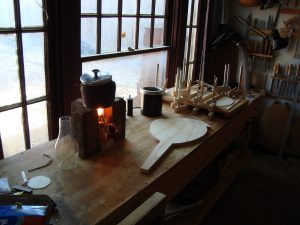 Eleven years later, in October 2008, the memory of that Williamsburg trip proved very useful. Faced with a deadline to finish a neck re-set job on a customer's medieval lute, and with a storm-related power outage in my neighborhood, my trusty "Hold Heet" electric glue pot was only useful as a clamping weight. Remembering the Hay Shop glue pot, I decided to try making a batch of hide glue in the same manner I saw in 1997.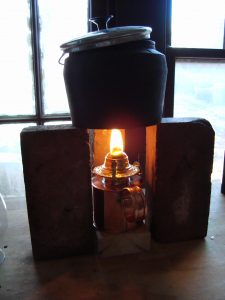 With a long-set-aside cast iron glue pot from a Todd Mission, Texas antiques store, a copper oil lamp from Backwoods Tin, and a few bricks from around the yard for a trivet, I was soon back in business with a fresh pot of glue, and able to complete the lute repair. The moment I lit the lamp, heard the flicker of the flame in a completely quiet shop, stepped back waiting for the glue pot to heat, and saw only natural light streaming across my workbench, I knew that I'd turned a corner with my approach to building musical instruments.
6,287 total views, 2 views today